GELSOFT TOMAHAWK RIFLE BLACK FOR SKIRMISH BATTLES
The GelSoft Tomahawk Skirmish Series rifle delivers everything you'd expect; there's plenty of power and a high level of accuracy all combined in this unique magazine-fed GelSoft rifle. This rifle fires safe, frangible GelSoft ammo, the ammo is biodegradable and made predominantly from water ensuring no harm to the environment. On impact, the ammo 'pops' or 'bursts' with a satisfying splat of water, or just bounces off the target safely.
The Tomahawk rifle has a host of features including an all-nylon receiver, trigger, and stock, an ABS handguard and magazine, V2 AEG style hard nylon gearbox with 18:1 ABS gears. ABS piston cylinder head and nozzle. The Tomahawk has a new gearbox design which provides a tremendous firepower advantage over other players.
WHAT'S IN THE BOX
The GelSoft Tomahawk is supplied with a magazine, 7.4V battery and USB charger. and a handful of ammo pellets. The GelSoft Tomahawk is simple to assemble and does not require any tools.
*Safety goggles are not included*

BATTERY INFORMATION
Charge battery for up to 3 hours prior to use. The battery is housed in the stock. Remove the butt plate by pinching securing tabs and then remove the plastic battery shield, this is loose and just pulls free. Pull connector out slightly (do not use force), insert battery and connect to colour correct terminal. Replace battery shield and butt plate.
WHAT ARE GELSOFT GUNS?
Gelsoft guns are very similar to paintball guns. They fire water based ammo that pops/bursts on impact. The guns are not considered weapons because of this system and their comparatively lower power output. Compared to airsoft guns which fire fire hard plastic ammo, our GelSoft ammo is soft and squishy which means they aren't intended as weapons and are unlikely to cause injury.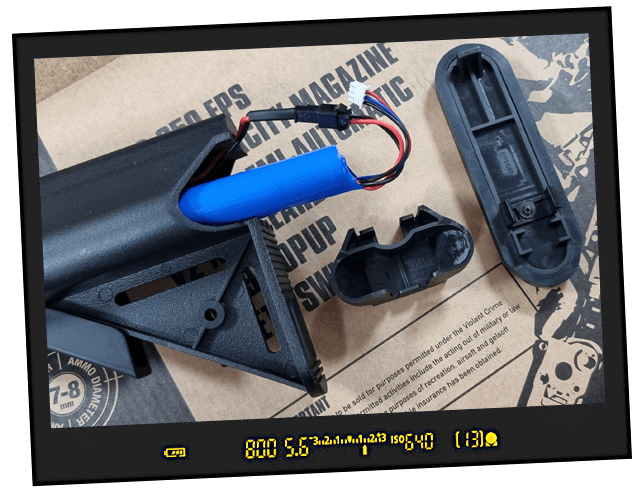 WHAT YOU NEED TO KNOW BEFORE PURCHASING THE GELSOFT TOMAHAWK RIFLE
To purchase a skirmish version Gelsoft gun or rifle you need to be at least 18 years old. There is no age limit to using a Gelsoft gun, however, children will require adult supervision.
Using Gelsoft guns in your back garden, at re-enactments or at paintball or airsoft game sites is permitted under the 'Permitted Activities' as defined by the VCRA (Violent Crime Reduction Act 2006). You will need to confirm you understand this during checkout by ticking the relevant box.
You need to have insurance cover for the intended 'Permitted Activities' but don't worry as most household insurance policies cover activities like skirmishing at home, but you will need to double check this and confirm you understand this during checkout by ticking the relevant box.